Implementing and sustaining a 1-to-1 program for students in a school presents both challenges and opportunities. The Sustaining a 1-to-1 Program in a School provides advice on what schools need to consider to make informed decisions about 1-to-1 program implementation by:
presenting the options available to ensure students have access to digital technologies;
demonstrating the learning and teaching benefits that 1-to-1 has for students, parents and the school community;
outlining the key elements to consider when planning, implementing and sustaining your school's 1-to-1 program; and
sharing practices from schools across Victoria.
Planning for 1-to-1 Learning is a digital publication that provides practical advice and resources that can be accessed online on any device through any browser.Planning for 1-to-1 Learning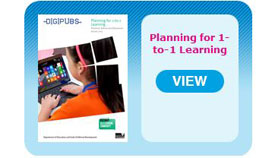 For more information, see: Planning for 1-to-1 Learning DigiPub
For more resources, see the Planning for 1-to-1 showcase.