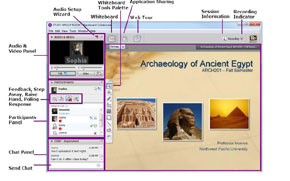 On Safer internet day we used the Virtual Conference Centre (VCC) to connect students and teachers from across the state. More than 70% of participants were there for the first time ever!!! Great work teachers of Victoria.
I do want to just let you know that as Victorian teachers you are able to use the Virtual Conference Centre (VCC) for free (we have paid for the service) at any time.
http://www.education.vic.gov.au/school/teachers/support/Pages/blackboard.aspx
You will need to register but it is a great tool to use with your students to talk to anyone any time (And record the session for posterity and or assessment)
Better still we have the Fab Four! – No not Ringo etc but 4 Fab coaches to lead you through the technology.
Virtual Conference Centre coaches 2014
Virtual Conference Centre (VCC) coaches are available to assist teachers and students to prepare for a virtual conference. They can assist with setting up hardware and software, and can share ideas for connecting with others. VCC coaches are Victorian teachers who are released from their classroom duties to facilitate online coaching with those who are new to web conferencing. Coaching occurs online via discussion forums, email and web conferences, by phone or by site visits.